Vallecito Alsatians
Future Litter Plans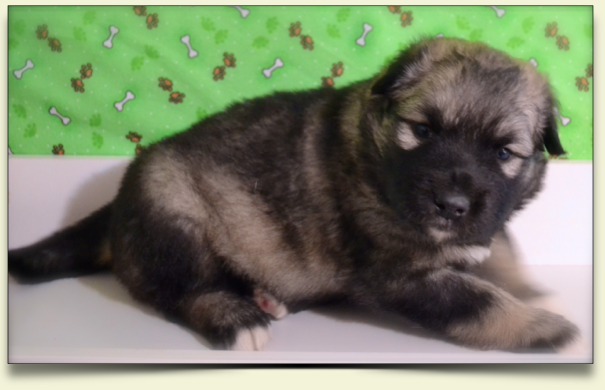 This litter will be an F3 crossbred litter as Sprinkle is a 2nd generation American Alsatian X M'loot Malamute and Aslan is an F5 on his mother's side and an F19 on his father's side. It will have an inbreeding coefficient of 16.21%. These puppies will be quite large and reach 100 - 120 pounds fully grown. They will have thick bones and all will have very light amber to bright yellow eyes. They will look very Dire wolfish in size and conformation. All puppies will be dark to light silver wolf gray. The puppies in this litter will be very quiet and calm and will be excellent with children, dogs and cats. These puppies are being bred solely for family companionship. Temperaments will have excellent American Alsatian temperaments with very little deviation. Please see our temperament scoring system for more information. Temperament and conformation will be thoroughly assessed when the puppies arrive. This litter is pending passing scores from all health tests as well as no signs of ill health at any time. Aslan has been OFA tested "negative" for elbow dysplasia and received a "good" hip rating from OFA. Heart and eyes have been tested normal and clear. He has had absolutely no health issues to date. If you have any further questions regarding the health of these two breeding dogs, please contact us for a referral to our vet files at Bayfield Animal Hospital. We will not keep any puppies from this litter.
Puppies from this litter will likely range in price from $2500 - $3000 for pet quality
and more for show/breeding quality.
We are dedicated to excellence!

We have extremely high standards for which dogs we breed to whom.
We have thought very carefully on the benefits and weaknesses of each litter bred.
We breed only to better the breed in health, temperament, and looks.